What clients say about us
Laskowski.pro have created a Volkswagen dealer site aimed at generating online sales. Our e-commerce is generating a high conversion in lead acquisition. Integration with Otomoto API has greatly automated work in the sales team.
Marcin Hildebrandt
Managing Director
Laskowski.pro helped us to properly set up the conversion tracking system. Thanks to their expertise we've been able to measure and optimize the most important metrics.
Chris Spilka
CEO
Laskowski.pro developed a professional B2B e-commerce solution for our company. We appreciate good communication skills and project methodology.
Michał Ankiewicz
CEO
E-commerce optimisation has enabled us to improve the usability. Our cooperation has been smooth for many years.
Kate Neumann
Sales Manager
With full responsibility I can recommend Laskowski.pro a reliable, responsible and competent partner.
Iwona Oleszczuk
Marketing director
We have received a very professional e-commerce consulting service from Laskowski.pro. Optimising our SEO has enabled us to enhance our organic visibility and increase traffic in a short time.
Michael Brzeziński
CEO
Experts with a huge knowledge and experience in e-commerce. We are confident that your participants will make good use of your expertise.
Caroline Janik
CEO
Laskowski.pro has been delivering a constant optimisation of my online store selling medical equipment B2B. We have increased efficiency by proper targeting and budgeting.
Mariusz Michalski
Owner
Marketing campaigns have enabled us to build traffic and boost the range of our brand online.
Thomas Giemza
Marketing director
Laskowski.pro has been our technology supplier for many years. At our online store, we have implemented an advanced pricing automation system, to controll and set prices for products using competition data.
Sławomir Langowski
Owner
E‑commerce systems
We develop client-tailored e-commerce systems, that exchange 3rd party data. Efficiently connect to external API, automate tasks. Increase E-commerce revenue.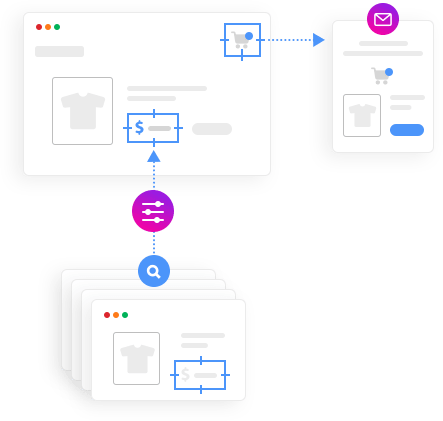 Lead gathering websites
We design websites that will collect as many leads as possible for your business. Start collecting leads and boost your conversion.
Marketing Automation
Automate your marketing. Send e-mails, show personalized adds, compare price with competitors and much more.
About
We are professionals with 10+ years of experience in creating E-commerce software for business. Our aim is to provide high-performance development services for E-commerce. Currently, we have nine people working for Laskowski.pro.
Michal Laskowski
- Managing Director
Project Manager with academic background. User experience designer with a client-oriented approach. An ultra-cycling enthusiast.

linkedin.com/in/laskowskimichal/
Piotr Laskowski
- Sales manager CEE & The nordics.
Social selling and Ads expert. Sales manager CEE & The nordics. Hiking enthusiast.

www.linkedin.com/in/piotr-laskowski-13633a49/
Maciej Laskowski
- Full Stack Developer
Team leader in application development. Expert software architect with high communication skills. Licensed drone pilot.

linkedin.com/in/maciejlaskowski/